May is here and that means one thing, kicking into high gear. The finish line is in sight. With STAAR, TSI, exam
week, and other academic targets such as MAP, it is critical that we remember that when the finish line is in
sight, we give the extra effort to finish strong. The key to reaching +10 is the desire to excel.
At-will letters of assurance will go out on Friday to all staff not on contract.
Curriculum Announcements
Professional Learning
Registration is now open for the Revolutionizing Learning Conference. It will be on July 24th and 25th at Royse
City High School. Please go to

http://www.rlchat.com/

for more information or

click here to register

.
Interested in presenting?
Revolutionizing Learning is looking for presenters to lead engaging and exciting sessions during RL 2018. We would
love to see BRISD educators sharing their knowledge and excellence with other educators. Anyone who presents
at Revolutionizing Learning or any other professional conference will receive an additional Flex Day. If you are
interested
please go to
http://www.rlchat.com/
or click here to submit a session proposal. If you would like help composing
your proposal please email melissa.stiney@brisd.net
Please read your Test Administrator Manual prior test day.
HERE is a link
to your Test Administrator Training
that you had in April to review your responsibilities. Mrs. Kay and Mrs. Douglas are scheduling testing meetings with each campus. Be looking for communication from them for your required testing meeting prior to the May STAAR and EOC administrations.
The end of the year MAP testing window is currently open and closes Friday, May 18th. When planning for MAP testing, please keep in mind that Algebra I, Biology, and US History EOC testing will take place May 8-10, and STAAR testing at the Middle and Elementary Schools will take place May 14-16.
See your campus administrator with any questions regarding the scheduling of the MAP tests. Also, be on the lookout for more communication from your MAP contacts (Ashley Elder, Mary Townsend, Stacey Flanagan) regarding the completion of this last MAP assessment.
Staff Shoutout
Special thanks to the entire Blue Ridge Elementary Staff for their calm and quick response to the events on
Tuesday afternoon. We appreciate your diligence and support in resolving the situation.
Showcase Showdown
The following people have won a ticket to the Showcase Showdown on Friday, May 25.
Ann Ellingson
Miranda Hamm
Amanda Humphrey
Vanessa Joiner
Sherry Lord
Casey Moore
Terri Rodriquez
Jenny Schafer
Jennie Stroup
Donna Wiggins
Every week we will pull 10 names. Find out how many tickets you will get to win the Prize is Right on
Friday, May 25 at 1:30 p.m.
Below are the folks who are making donations for the End of the Year Showcase Showdown. I hope you are
finding "usual" and "unusual" things to "Make a Deal".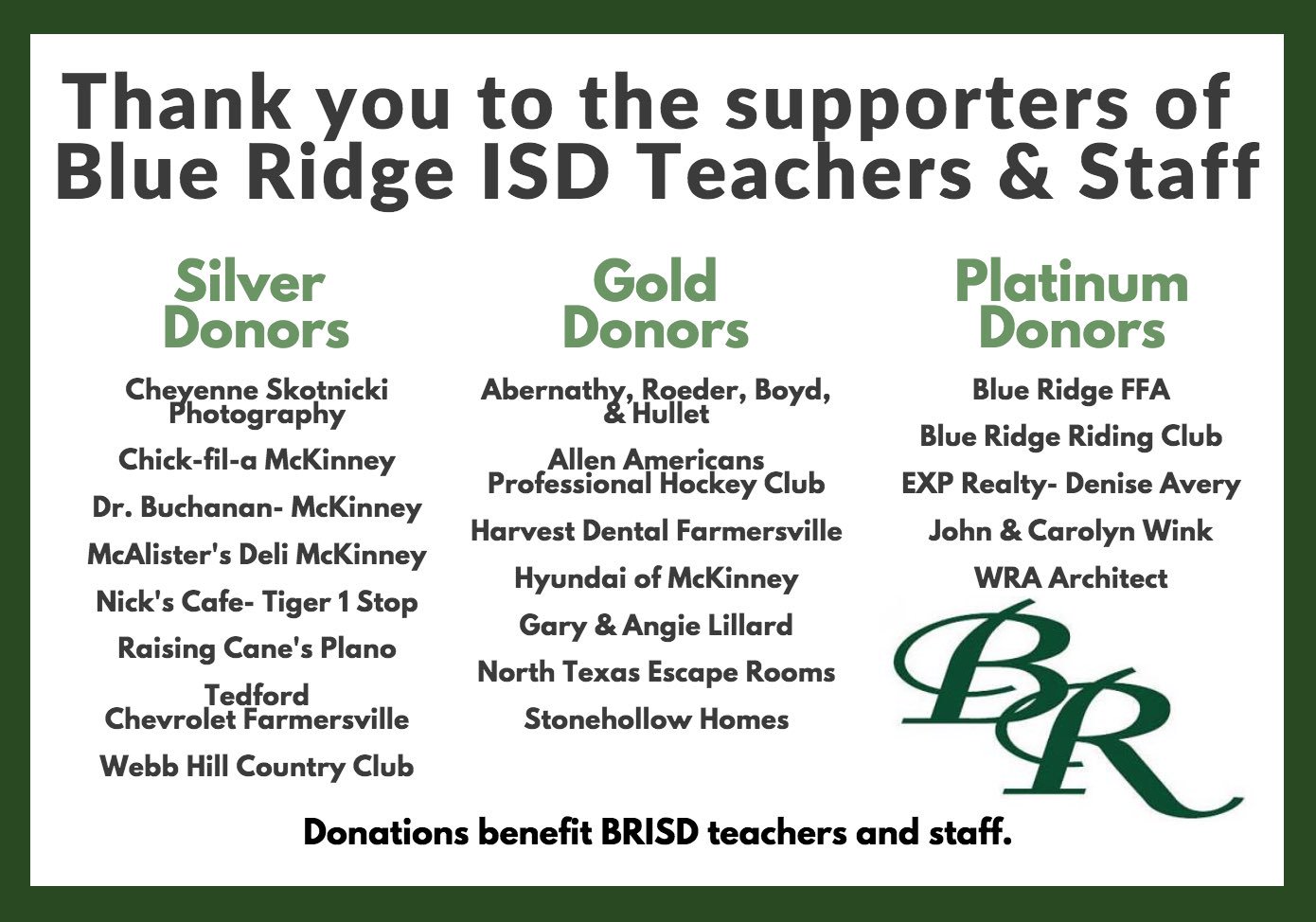 Apr 23 - May 1 - Early Voting at BRISD Admin Building
Fri, Apr 27 - End of 6 Weeks Grading Period

Wed. May 2 -

Retirement Planning Seminar

May 7 - EOC Testing Week
May 14 - ES & MS STAAR Testing Week
May 25 - Last Day of School & Showcase Showdown
Technology Announcements
Anonymous Alerts
: BRISD is implementing a new system for confidential reporting of bullying, cyber-bullying, and any other potentially harmful or urgent information. The system is called Anonymous Alerts and encourages students, parents, and staff to confidentially report on sensitive matters through private messages to our administration. Reports can be submitted through a free Anonymous Alerts app or from
https://www.anonymousalerts.com/blueridgeisd/
If students/parents/staff choose to report from the app they will use the
login:
blueridgeisd and
password
: blueridgeisd.
Please click here to view the student training video to see how this system works.
Special Programs Announcements
Business Office Announcements
May 1st will be the last day any food charges will be accepted for employees or employee children.
Media Center Announcements
Awards ceremonies and end of the year events are quickly approaching. Please make sure you send
all special
printing jobs to mediacenter@brisd.net at least a week prior to the event.
---